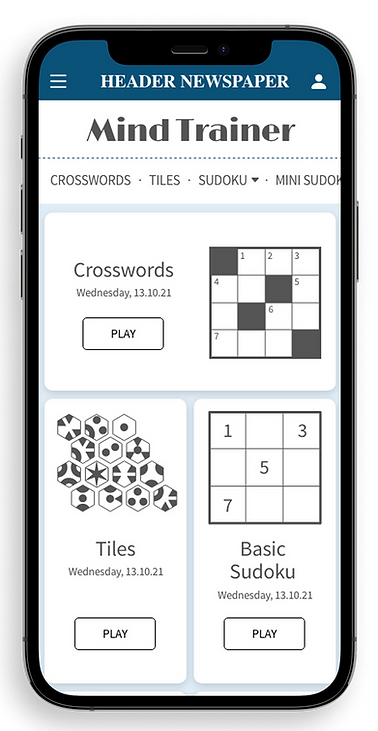 Quality hobby platform for subscribed users.
Optimized design and usability for an ideal gaming experience.
High efficiency to keep the mind trained.
Tool conceived as a driver for the acquisition and maintenance of the subscribed user.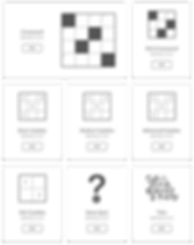 ​
Crossword
Mini crossword
Basic Sudoku
Advanced Sudoku
Expert Sudoku
Mini Sudoku
News Quiz
Tiles
Main Menu
Access all games from any screen.

Help Menu
Dropdown menu with options for each game.
Cronómetro
Game time. Possibility
to show or hide the stopwatch.
Menú juegos
Every day, up to 10 new games. Sorted from oldest to newest. Three states: To play, Started and Finished.
My statistics
Statistics for each user: completed games, average time and game level.
Exit
To leave the game and and return to Home.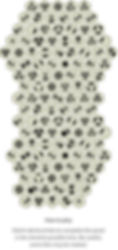 How to play
Instructions for each game.
Show letter/word/crossword
Indicates if the content is correct or not. Available in: Crossword, Mini Cruci, Sudoku and Mini Sudoku.
Solve
Shows the solution of the game.
Restart
To restart the game.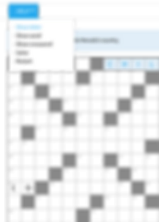 Completed
Number of games completed and percentile with respect to the total.

Game Menu
Number of games started (completed and unfinished).
Avarage and General Time Average time used to complete each game, average time of all users.
My Game Level
Each completed game will assign a score. The sum of the points accumulated during the last 30 days determines the user's game level: Beginner, Basic, Medium, Good, Advanced and Expert.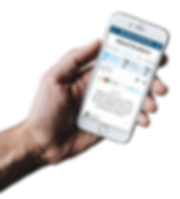 Quality Games takes care of everything, from the daily management of content integration as well as the hosting and MGA of the platform.
The client can provide the contents of its own crossword.
Names and design are customizable.
Quality Games can be integrated as a subdomain or folder.